Customer Reviews
11/25/2020
Lydia
United Kingdom
I recommend this product
Boobuddy helped me become a runner!
I used to find running uncomfortable, regardless of how good my sports bra was, but, this year, I started wearing my boobuddy over my sports bra, and now I can run pain-free! Thanks to boobuddy I can call myself a runner. I've been so impressed, I put many of my friends and family onto boobuddy, who love them too. I find I have to stop myself shouting out to bouncing women - "There's another way!" I'm passionate about women exercising, whatever their shape, size, or boob-allowance, so I've become something of an unofficial boobuddy ambassador.
06/03/2020
Carla R.
Ireland
I recommend this product
Game changer
I came across boobuddy by chance and thought no way could they help....well I was wrong. I have been heavy chested since a young girl and have always struggled with bras good support when exercise and especially when running marathons. I would have to wear 2 or good high end sports bras for support. This product has changed my life and I don't say that lightly....ive been using it 2 weeks now...wearing it either above my sports bras or between lol....they have erased any bounce or discomfort while jogging walking or doing jumping jacks etc. I ordered a size medium and I'm a 34ff to a g cup....i probably could have got away with a small if I'm honest...there is great stretch in the band. I am so happy I have found something to help my boobs stsy in place. Do yourself a favour and buy them.....x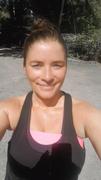 05/30/2020
emma m.
United Kingdom
I recommend this product
Wow!
I thought this product was just another gimmick, how wrong I was! They so exactly as they claim. I have even used them without a bra and i can honestly say they are brilliant. I will never have to spend a fortune on disappointing sports bras again! Cannot not recommend highly enough.
05/25/2020
Anonymous
United Kingdom
I recommend this product
Amazing!!
This product is amazing, I have really big boobs and exercising has always been a nightmare. Since I've had it I've been for several runs and done circuits a few times and I don't even think about my boobs anymore which is the first time in as long as I can remember. No pain, no flapping about, perfect.
06/16/2018
Sarah-Jayne R.
Really effective
Was amazed how well this worked - well done!